Shared Hosting 101
Published: February 13, 2018 / Article by: Siarhei Kulich
Table of contents
1. What Is Shared Hosting?
Strictly speaking, shared hosting is when one web server hosts multiple websites. One web hosting company can have one, several or many web servers and host a large numbers of sites.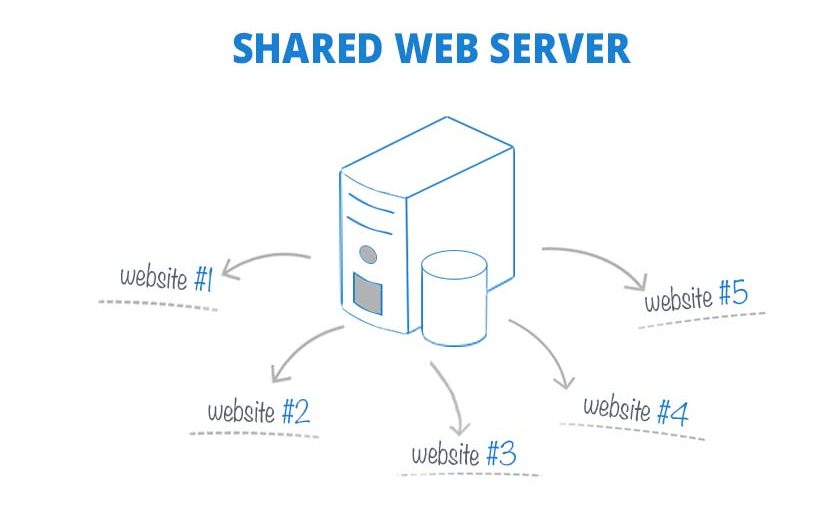 The concept of shared hosting is very similar to traveling economy class (vs. business, or even your own private plane). You've got one vehicle to share, the same amenities and services, and there are lots of other passengers. It is cheap, truth to be told, but delays happen, the kids are frequently noisy, the lines are tiresome and it's cramped because some of the neighbours are blissfully unaware of how much space they take up.
It's the same with shared hosting. You've got the idea.
Who Is It for?
It's the type of web hosting that is suitable for:
small businesses
individual website owners
sites without intensive traffic.
Being relatively inexpensive, it is great for new, low budget projects that have the potential to grow in the near future but do not currently require powerful resources.
Here is why shared hosting is good for relatively small websites:

Low cost. Shared hosting plans are way cheaper than dedicated and VPS hosting ones. Any type of a small website can utilize this option at the beginning be it an online shop or a personal blog.

No special knowledge required. There is no need to be a website guru with server administration skills to manage web hosting-related issues. With shared hosted, everything is pretty much simple. Also, MySQL and PHP support.

Management tools are included. Usually, it is cPanel or any other application that is already there, there is no need to worry about this either.

It's a package deal. You basically get a lot of useful things (yes, they might not be top-notch) such as multiple email accounts, ability to have several domains or/ad databases and etc. So, it's a real bargain.
Features
Shared hosting is far less expensive than the other web hosting offers. Why? For one simple reason: the company places multiple users on one web server (with each user being able to have several websites there) and the maintenance costs are distributed evenly amongst everyone. This enables it to offer lower prices to customers.
Shared also means that you have some other things in common with your web server neighbours, such as: :

Memory,
Bandwidth,
CPU power and etc.

It is no big deal to share resources for most of the time. Providers monitor their servers' performance and make sure they are not overloaded. However, it can cause a problem if one of the websites gets too much traffic (or its general performance is downright poor) as all the others will feel the effect of this.
You have absolutely no control over your server. There is nothing you can do about it if it is slow or goes down, apart from loudly banging your fists on the door of the hosting support's offices. So, with shared hosting, it is always about choosing your provider wisely.
---
2. How It Is Different from Other Web Hosting Options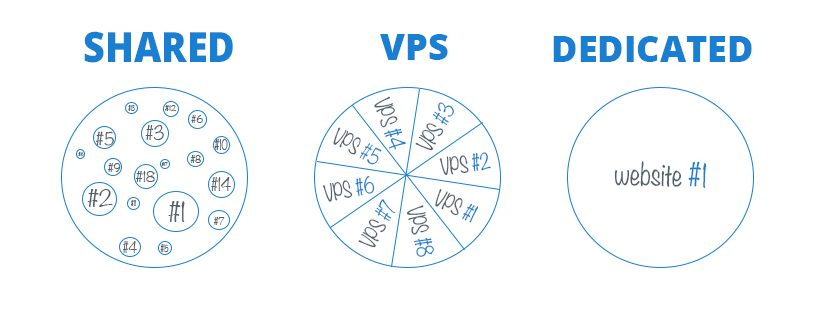 Shared:
All the users share every available resources with their neighbors on the server. There is a high probability that due to the problems of one website, the entire shared server will work poorly.
VPS:
(Virtual Private Server): this is still a "shared" environment, but the resources are divided in advance and each neighbor has their own predefined limit.
Dedicated:
Here you have complete access to all the resources available on this given server (because you have no neighbors).
---
3. How Much does Shared Web Hosting Cost?
Prices for shared hosting are relatively inexpensive (especially if compared with cloud hosting and VPS hosting).
As of our data, most shared hosting prices range somewhere between $1 and $4. There are many more expensive offerings as well, as you can see in the chart below: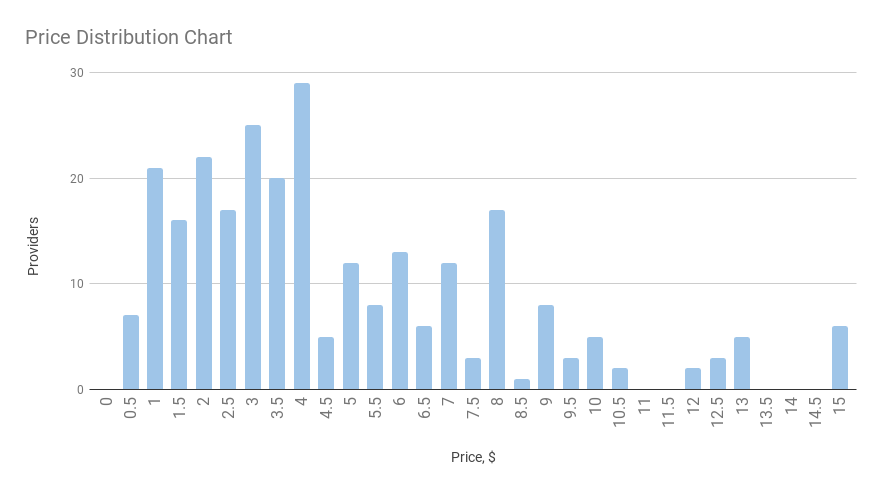 It is relatively cheap because there are many users on a shared server and they all pay equally; so, the provider's profit goes far beyond the maintenance costs. Which, in its turn, allows offering shared hosting at low prices.
Still, many inexperienced website owners get into a trap of the following sort: while the hosting price is low, they end up paying twice (or even thrice) the initial web hosting cost. It happens due to the number of marketing practices and tricks web hosting providers resort to in order to increase sales. Yes, they actually make customers pay more, and they usually do so quite ingeniously. So, be careful when you choose a plan, exclude everything that is optional and read the fine print carefully.
Some providers offer free shared hosting option alongside their paid plans, however, you have to keep in mind that everything free comes with strings attached and, thus, you get what you get.
Such a solution can beneficial for very simple websites that don't require much attention and/or are meant to further grow into something bigger. Free hosting is also a good way to test a hosting provider before purchasing any plan (if a free option is offered, of course).
Yet, those plans have a limited set of features if compared to the paid hosting options. There are more limitations and restrictions and you will get a lot of Ads as well. Here is our list of the providers that offer free shared hosting. You can check their performance results and compare.
Why Don't All Providers Offer It?
The thing is that most actually do, but they don't necessarily call it directly "shared". You can find the same thing under the name of "website hosting" or "Linux hosting". Companies without such offers are more narrowly oriented (with products for large business, corporate offers and similar enterprises) and they cost a lot more.
---
4. How Popular Shared Web Hosting Is?
The popularity of shared hosting as a service is hard to overestimate. According to the recent statistics we found on Netcraft.com, of all the bulk of companies they monitored all over the world in 2018 (8,500 companies in total), almost 5,000 offer paid shared hosting (as you can see below):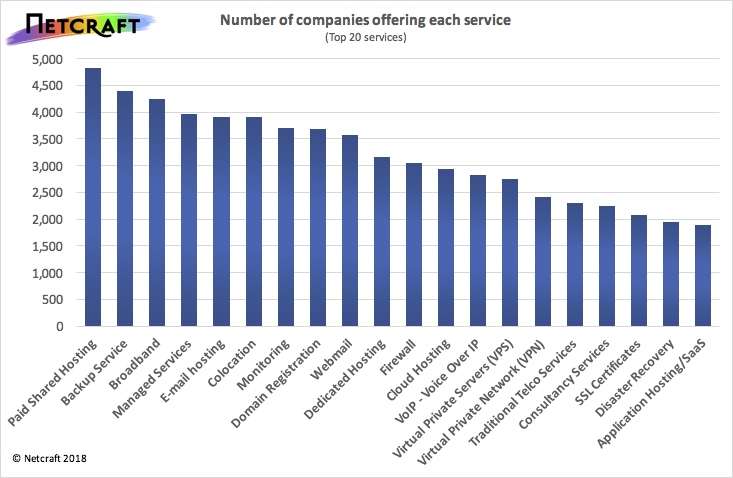 It is also quite clear that while dedicated, cloud and VPS numbers are also quite high, they only come as #10, #12 and #14 among the top 20 services offered. And paid shared hosting is #1. If this is not the proof of shared hostings' popularity, we don't know what is. After all, there is no supply without demand.
We can also back this assumption up by our own data. As of May 2019, the number of providers we monitored was 307 with 11.9 mln of domains hosted on them (by our rule ">50 domains per IP"). Well, that's quite the number. Surely, we do not monitor worldwide, and our data is much more modest, however, it is no less eloquent.
Thus, shared hosting is popular, and it doesn't seem to plan to stop being so.
---
5. How to Choose the Best Shared Hosting Provider?
There is an avalanche of web hostings these days, so making a choice is not that easy. There are certain factors that should be taken into consideration when you choose a web hosting. With shared hostings, the following things should be considered:
Uptime
Server response time,
Support,
Level of maintenance,
Price,
Other factors.
Uptime is the major factor. This is the time when the site works well and has traffic. Downtime is the worst thing that can happen in this respect. When Google doesn't see your site, no one does. That's why to choose a good hosting provider means to choose the one that has the best and the most stable uptime results.
Server response time is no less important. Roughly, It is the time before the response from domains on a Shared IP is received. The longer it takes, the worse it is for the website owner.
Support is the next thing that really matters. It is essential to have 24/7 access to a support team (especially a technical one). It is even better if it is available online.
Level of maintenance is not so easy to check as server maintenance is what a web hosting does behind the curtains and it is something that you cannot see. Yet there is always plenty of feedback to be found on the Internet.
Prices, as we mentioned earlier, can differ. Here, we do recommend you to do some background check before you buy. There are many decent providers with relatively low prices, and there are expensive hostings that have awful uptime. Thus, the idiom "all that glitters is gold" covers our idea precisely.
Where Are All the Good Shared Hostings?
Here is the list of 10 best shared web hosting providers in 2019 (according to HRank monitoring data for the period from January to May 2019):
Now, we hope you got the idea of what shared hosting is and how it works. Should you have a need to find a provider right now or such a necessity appears in the future, remember that popular large companies are very often not the best players. There are many less famous web hostings with quite powerful, well-maintained servers and quite affordable package prices. You just need to do a bit of research here and pick a really good one, rather than just pick the first one that you find after Googling "shared hosting".
And we can definitely help you with this.