Why Server Response Time Is Important
Published: January 13, 2018 / Article by: Siarhei Kulich
The next most dreadful thing you can face after suffering downtime is your website being too slooooooooow.
Table of contents
1. What Is Server Response Time?
Under server response time is meant the time spent to receive the first byte from a Server (URL or IP) or the time spent to receive the URL (website) header.
Server response time depends on a number of factors, the main ones being:
the server lacks power,
cheap maintenance,
insufficient attention given to security issues.
What is average server response time?
200-350ms is considered fast, 400-700ms is average, and all the rest can be called slow.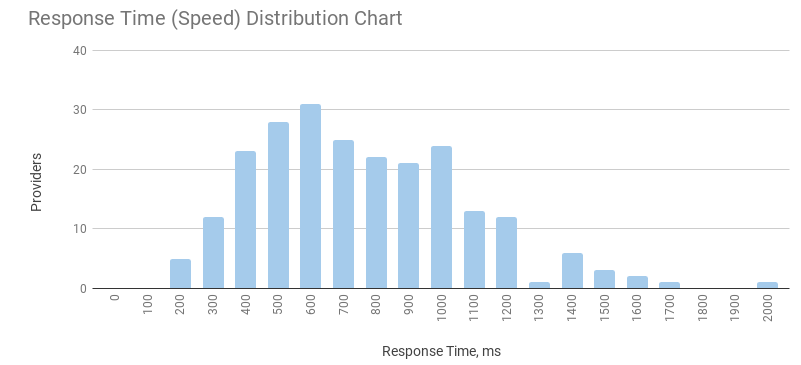 The HRank chart shows that most hosting providers have speeds up to 1000ms, but anything more than 800ms is slow.
And some interesting facts about response time of hosting providers:
Period of time: 16 Apr 2019 – 15 May 2019 (30 days)
Average response time of all shared servers (IPs):
ExaBytes.com – 1231ms
Host4Geeks.com – 1229ms
MochaHost.com – 1165ms
InMotionHosting.com – 1144ms
---
2. How to Check Response Time of a Website (Server)?
There are several ways to check the response time:
1. Check by using Google Analytics (if your site is already there): Behaviour -> Site Speed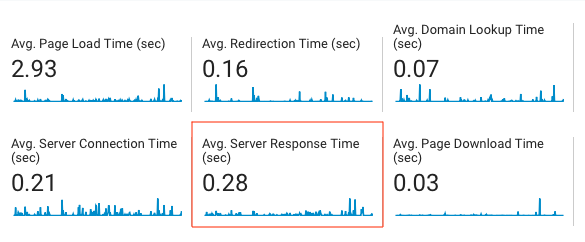 If we count in Milliseconds, it will be: 0.28 sec = 280 ms
Google Analytics allows you to check response time for 1 previous day or for a certain period of time.
2. You can use one of the third-party services, such as site24x7.com, and their tool Ping Website.
It allows to check response time at the given moment from several locations:

3. You can also check the response time of your website via the Terminal on your MacBook (more exactly how to do it).

If you check Ping through Terminal, it will show the response time between your computer (your location) and the web server of your site.
It is very important to run Ping from multiple locations and understand:
where your website server is geographically located,
where the main traffic to your website comes from.
To achieve the shortest possible response time, geographically, the server and the target audience of the website should be as close as possible to each other.
4. HRank service has a unique ability to show the response time of a hosting provider (the average of all provider servers) and the response time of a specific server in history. It allows you to evaluate the performance of the server (provider) in the past and see whether it was fast or not. If you see the value of 800ms or more on the chart, you might benefit from changing your current provider. The service is priceless as it shows the historical data and can help you find a better option.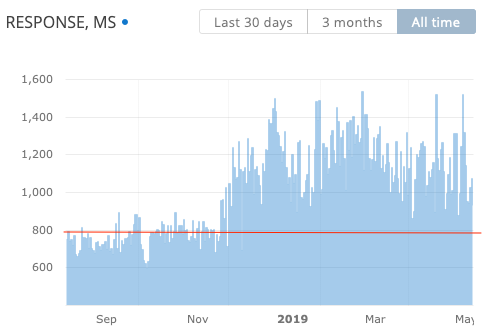 Thus, before proceeding to the website load speed (its HTML elements), you need to make sure that the server (where the website is hosted) works fast.
Yet, many website owners tend to ignore this moment and focus primarily on website optimization.
---
3. Website (Page) Load Time
There are two components to your site's speed: how your website's server works and how your site performs in general.

Your site's performance is your territory, so it is all your responsibility if it crawls because it is too heavy and requires optimization. These issues are yours to tackle and they can be taken care of, e.g. by reducing the website's weight, resizing images, CSS, JavaScript etc. (PageSpeed Insights gives plenty of advice on this subject). However, it's up to you whether you do it or not.
Your server works, but you cannot directly influence it. This is because your server's speed is your web hosting provider's territory. Even though the response time is an essential part of your server's performance, you cannot make it work faster (or better).
Once again, there is nothing you can personally do to affect the situation directly, BUT you can check whether your website's server response time is good enough.
---
4. Slow Website and Page Abandonment
A slow response to a visitor's request = page abandonment.
You have just got a few seconds to ensure that your page fully loads and grabs your visitors' attention. Otherwise, you will lose them because no one wants to wait for 10+ seconds these days.
The page load speed is as important to your website's success as uptime is. The same things are at stake here:
---
5. Bad Response Time? Change Your Hosting Provider.
When your pages are slow, you will definitely lose both SERPs and profit.
As long as it's not in your power to speed-up your server, that is exactly why you might need a new provider, especially if you are on shared hosting.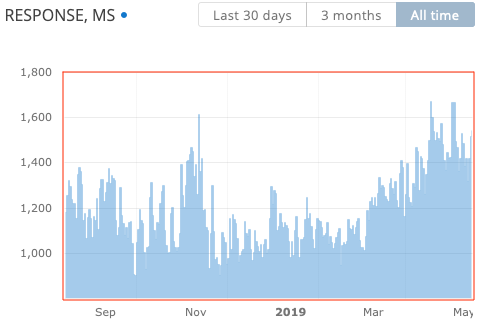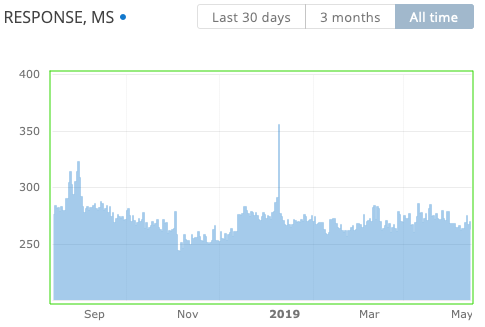 While there are large companies that possess a large number of servers, they are not necessarily as diligent and dependable as their smaller, less well-known competitors who provide cheaper offers and make much more of an effort to keep their servers happy. There are providers out there that won't let you down, we know that for a fact.
We at HRank can be of assistance here in the following way:
You can check your hosting provider's average response time (all hosting Shared IPs will be taken into consideration) and see whether it is better or worse than what you currently have.
More importantly, you can see the data for a continuous period of time (starting from September 2018), which will give you the detailed picture of the provider's performance history. That's something you are unlikely to find anywhere else.
Thus, by having all of the data to hand, you can make your own comparisons and draw your conclusions about the right choice of a provider. Maybe it's time that you benefited from such a change.
Judging by current trends, we can definitely say that a good web hosting will be a "must" in the near future. So, it is good that you now have our assistance to help you make a more informed choice. After all, this is only partly about Google having its own preferences. It is much more about gaining your customers' trust and the impact that the server response time will have on your conversion, orders, sales and revenue.
---