Website Builders Usage by Hosting Providers and Their Market Share (Research)
Published: February 1, 2019 / Article by: Siarhei Kulich
---
Website Builder as a Major Web Hosting Trend
The Internet hosting industry has grown with leaps and bounds recently. Not having an online presence nowadays puts a company at a severe disadvantage and growing will be extremely difficult.
Good news is that there are many online tools now available and that makes it easy for anyone to set up their own website. One of such tools is a website builder.

While everyone have heard the names of Wix, Weebly and Squarespace, they are not the only options. Web hosting companies also include a free/paid 3d party website builder or their own website builder product as part of their hosting solution.

For instance:

Why the latter are worth our attention and how many of them offer a beneficial website builder option you can employ – these are the major points we are going to cover in this article.
Web hosting industry currently remains a very lucrative business, reaching $27bn in total revenue in 2018. This translates to a growth of 12.9% since 2013 and the industry is still growing.
Also, the Digital Journal cites Marketresearchfuture.com report and predicts that the "web hosting service market is on the rise and will likely reach $154 billion by 2022, an estimated growth of 16% between 2016 and 2022".
However, the major idea about web hosting future is that providers that don't leave a unique footprint and gain an advantage will lose the race.
The trend is shifting from infrastructure leasing to service based business – and it's no surprise. Shared hosting prices has dropped to less than $3/mo today. There's very limited space left to compete in term of prices. Hosting companies need new revenue sources and differentiation from the competition. Website builders, as well as other add on services (ie. SSL support and security features), are the answers.

– Jerry Low, Web Hosting Secret Revealed
Website building, in this respect, has progressed very far from its humble beginnings and has become the de facto standard of what the future of web hosting looks like.
This trend is not likely to decrease anytime soon and predictions by industry experts indicate that the website building segment will continue dominating the market, with an average CAGR of 14.6% being forecast.
We are going to focus further on the website builder trend in detail and see how many providers presently offer such an option.
Website Builders Used by Hosting Providers (Statistics from HRank)
As it appears, many providers, actually, hopped on a bandwagon (or have been there already) and offer website builder feature. Since the trend is likely to continue, it makes sense to learn which providers offer what option. It is always useful to know where to go, if a sitebuilder platform alone isn't good enough.
For this purpose, we have made a small research and checked the providers on our list. Here is what we have discovered:
Correlation of providers with/without a sitebuilder on HRank list

Out of 232 providers we are currently monitoring, only 154 mention some sort of website builder option on their pages. In fact, it may seem as not much, however, it is actually 66% of the list. And this is not a small figure, if you take into consideration that the majority of the providers are small or medium-sized.
Correlation of providers with an own sitebuilder / 3d party sitebuilder on HRank list

Only 38 out of 154 (25%) offer their own product (6 of those offer both own product and a 3d party product).
This is an interesting fact in the light of the report data mentioned earlier in the text. It appears that mostly (not exclusively, but nevertheless) large hosting companies offer the benefit of using the sitebuilder of their own development. These are mostly web hosting providers with the number of websites at least 80K* (*we calculate the number of websites according to our "50 and more domains rule"; this is not the total number of sites a provider hosts.)
Smaller companies prefer to partner with other companies and use their resources; which is understandably cheaper, and in many ways more convenient.
114 providers offer a website builder powered by some 3d party. Most commonly it is an unspecified add-on option called "Free website builder" or "Free sitebuilder" that comes together with a hosting plan. In our list we have singled out 26 such cases. 24 out of these 114 use RVSiteBuilder, 24 partner with Weebly, 10 with WebsiteBuilder, and the rest partner with other companies.
3d party website builders used by providers on HRank list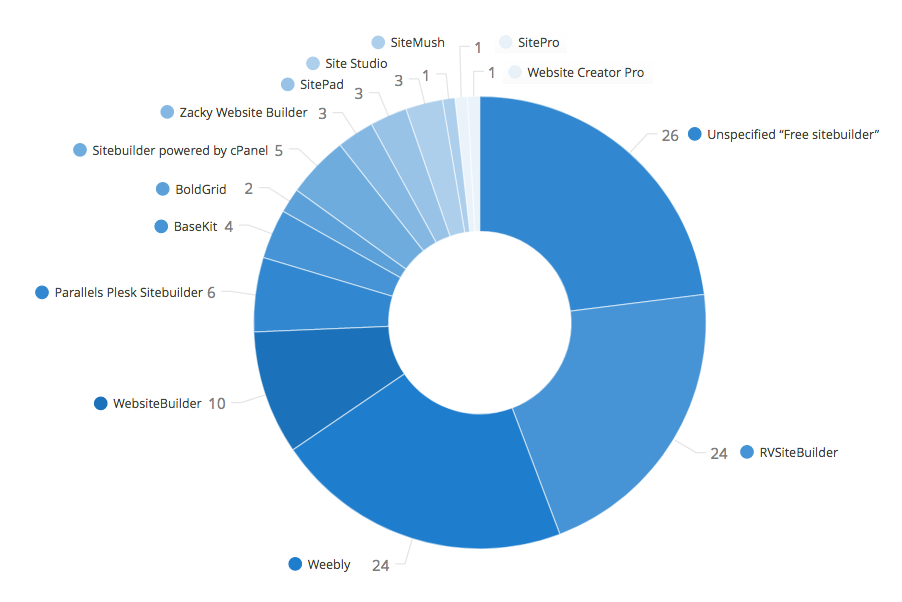 None partner with Wix or Squarespace, which is interesting.
However, the number of providers using RVSiteBuilder is equal to the one of Weebly usage, yet, almost everyone's heard about the latter and the former is not that popular. The thing is we haven't met any mentions of it in any reports for content management systems trends (and we are going to dwell in more details on it later).
50 largest providers and their website builders
| Provider | Websit Builder | Sites |
| --- | --- | --- |
| GoDaddy.com | Own product | 3816193 |
| HostGator.com | Own product | 1292291 |
| Bluehost.com | – | 1274839 |
| Enom.com | Own product | 486634 |
| OVH.com | – | 468015 |
| Yahoo.com | Own product | 376525 |
| NameCheap.com | – | 328380 |
| SiteGround.com | Own product + 3d party (Weebly) | 323769 |
| ResellerClub.com | Own product + 3d party | 216992 |
| iPage.com | 3d party (Website Builder / Weebly) | 205781 |
| InMotionHosting.com | 3d party (BoldGrid) | 193694 |
| HostMonster.com | 3d party (Weebly) | 166264 |
| Name.com | Own product | 161076 |
| NetworkSolutions.com | Own product | 114975 |
| FatCow.com | 3d party (Website Builder) | 114145 |
| NetFirms.com | 3d party (Weebly) | 102212 |
| A2Hosting.com | Own product | 98911 |
| JustHost.com | 3d party (Free with a plan) | 93200 |
| Domain.com | Own product + 3d party (Website Builder) | 92662 |
| 1and1.com | Own product | 86839 |
| Register.com | Own product | 82297 |
| DreamHost.com | Own product | 78152 |
| Site5.com | – | 73127 |
| FastHosts.co.uk | 3d party (BaseKit) | 54677 |
| HostPapa.com | – | 51709 |
| HawkHost.com | – | 47965 |
| GreenGeeks.com | 3d party (RVSiteBuilder) | 44557 |
| iPower.com | 3d party (Website Builder) | 44494 |
| PowWeb.com | 3d party (Weebly) | 44227 |
| Tsohost.co.uk | – | 43841 |
| Dotster.com | 3d party (Weebly) | 43831 |
| aSmallOrange.com | 3d party (Weebly) | 42200 |
| 123-reg.co.uk | Own product | 40738 |
| WebHostingHub.com | 3d party (BoldGrid) | 35830 |
| WebFaction.com | – | 30422 |
| FastComet.com | Own product | 30355 |
| Verio.com | 3d party (Weebly) | 29973 |
| 20i.com | Own product | 26480 |
| Arvixe.com | – | 26049 |
| MochaHost.com | Own product | 25754 |
| WebHostingPad.com | 3d party (Weebly) | 25092 |
| Easyspace.com | Own product | 24431 |
| LiquidWeb.com | – | 23388 |
| StableHost.com | 3d party (BaseKit) | 22684 |
| StartLogic.com | 3d party (Website Builder) | 22297 |
| BlackNight.com | 3d party (BaseKit) | 21315 |
| DotEasy.com | – | 19655 |
| Names.co.uk | Own product | 19705 |
| LunarPages.com | Own product | 19473 |
| Midphase.com | 3d party (Weebly) | 19438 |
This is the list of 50 largest hostings on our list (by the number of domains). As you can see, not all providers offer a website builder as an option. In fact, only 39 of them do.
11 providers offer no such option.
Among these 39 providers 20 offer their own product (3 of those also + 3d party product).
22 providers use some 3d party website builder with Weebly being the most popular among them.
Interestingly enough, Bluehost.com (the 3d), OVH.com (the 5th) and NameCheap.com (the 7th) do not have any sort of sitebuilder, either own or 3d party.
Judging by this results, we can clearly see from the data that most hosting providers have already decided to choose adding a website builder to the list of their services, so as to be most effective for their clients. Thus, the website builder trend we discussed earlier is not just a mythical assumption.
---
Leading Website Builders Market Share and Use
Now, let's have a closer look at the website builder market in general.
Market Share Data
These platforms, as we've already mentioned, are expected to continue dominating the market (according to Marketresearchfuture.com report) in the nearest 5 years; however, this tendency is not something new and unheard of: they have been growing in popularity for years.
Market share of the leading website builders worldwide as of 2018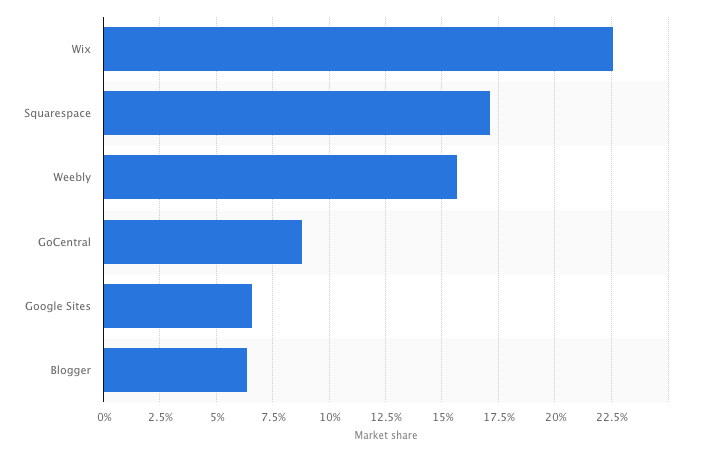 In 2018, for instance, one of the most popular platforms currently on the market was Wix, with an estimated market share of 22.61%. And it was closely followed by Squarespace with an estimated market share of 17.15%, and Weebly (15.67%).
---
We've also found a more complete historical overview of the website builders' market share (data from w3techs.com).
Market share yearly trends for content management systems for websites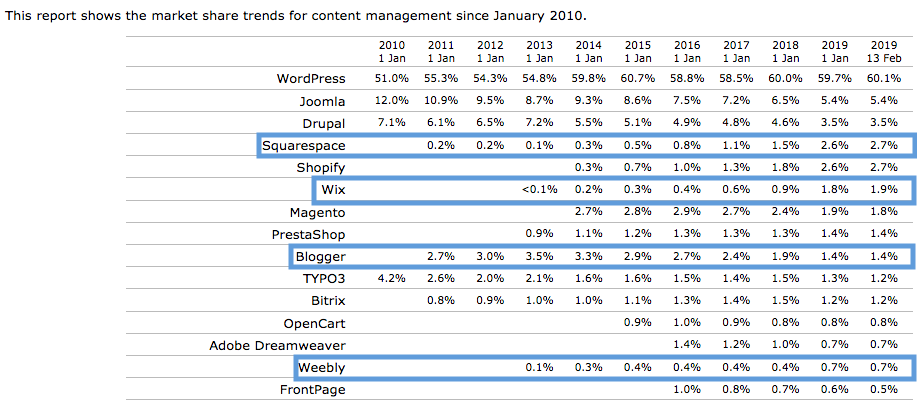 This statistics puts Squarespace higher than Wix; and Weebly lower than Blogger with regard to their share on the market; however, there is a definite increase trend for all of them from 2010 till 2019 and it cannot be denied.
---
Consumer Usage Data
The same dynamics can be seen in the website builder usage trend: the one of increase as well. This data is backed by Builtwith.com. Currently:
~2,000,001 live websites use Wix;
~1,881,917 live websites use Squarespace;
~935,420 live websites use Weebly;
~380,224 live websites use Blogger.
Wix Usage Statistics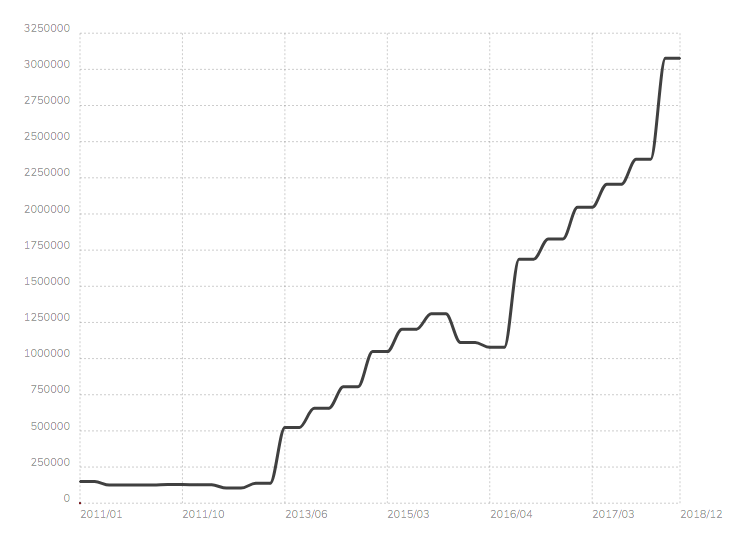 Definite increase trend can be observed on this chart. Wix has grown a lot since it started.
Squarespace Usage Statistics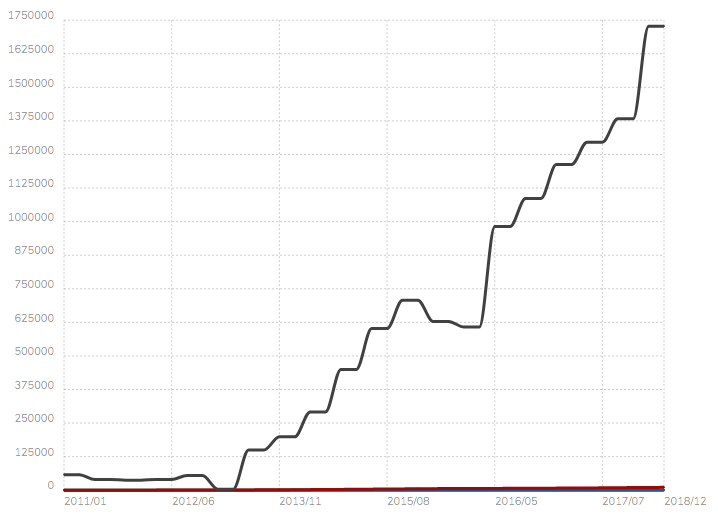 So has Squarespace. Its chart look very similar to the one of Wix's in dynamics.
Weebly Usage Statistics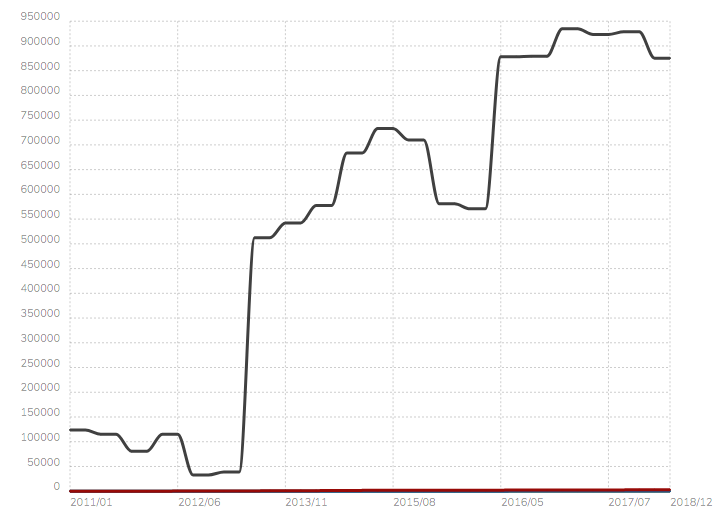 Weebly seems to be growing by leaps and bounds. Yet, it is nevertheless popular.
And its also one of the platforms that offers Weebly White Label Program Which makes it a popular choice among web hostings that want to follow the trend, yet have no intention to develop their own product.
*"A white label product is a product or service produced by one company (the producer) that other companies (the marketers) rebrand to make it appear as if they had made it." – Wikipedia
It is also quite interesting that as opposed to Weebly, Wix have no white label offering at the present moment.
And none has Squarespace. As we have learned "there's no white label version or affiliate program of Squarespace".
We haven't dug out any data on the usage of sitebuilders separately, rather general usage data. However, we guess that, perhaps, they are good as they are and there is no need in offering affiliation programs or becoming a 3d party provider as they are #1 and #2 already. While Weebly strives to gain more market and, thus, has gone into the direction of cooperation with website providers. If we had the usage statistics on this share, we could prove it. As of today, we can only assume this is the case.
Blogger Usage Statistics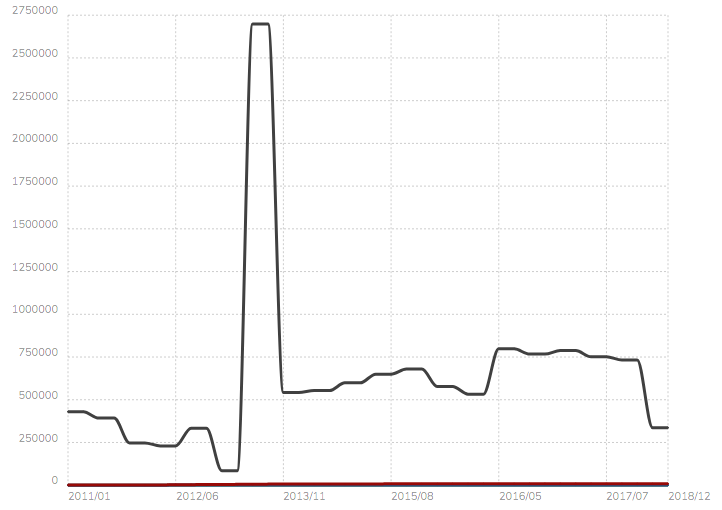 Blogger reflects a bit different picture. It was at its peak in 2013 but got back to the initial positions and has been growing not so noticeably as its competitors since then. Yet, it is still popular.
RVSiteBuilder Usage Statistics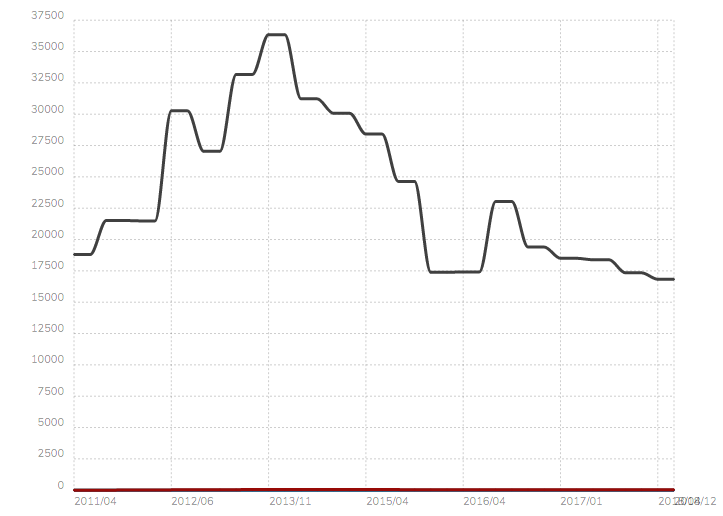 As we promised, we are getting back to RVSiteBuilder. It's an interesting case because we've already mentioned it as the 2d most popular sitebuilder employed by web hostings (after Weebly); yet, as opposed to Weebly (which is hugely popular), RVSiteBuilder has only 44,598 websites total (and 16,497 currently live websites.)
This is really not much compared to the Weebly's stock, however, we have seen it mentioned many times on offer from various providers. Sadly, we haven't managed to find any data on the popularity of its usage via hosting providers specifically.
GoDaddy Usage Statistics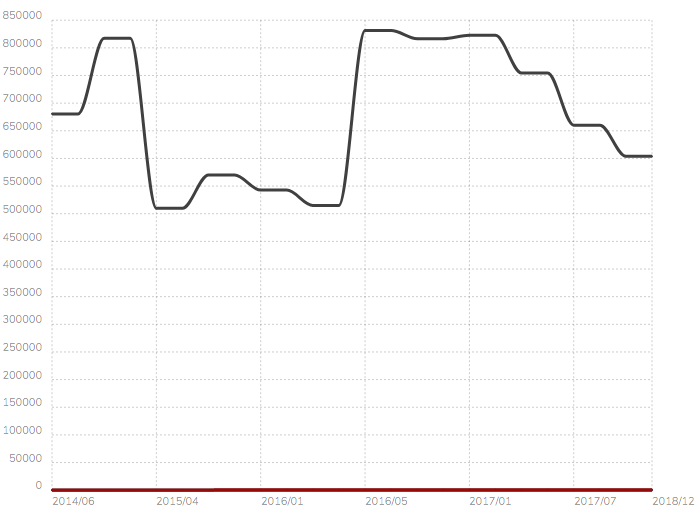 We have had a look at two most popular 3d party sitebuilders and now let's have a look how popular providers' own products are. This is GoDaddy's chart. According to the information we've learned, 1,652,030 websites use GoDaddy Website Builder (among them are 862,152 currently live websites).
This number, actually, places GoDaddy's sitebuilder right next to Weebly, on the 4th position with regard to usage.
---
Other large providers with their own sitebuilder from our list were revealed to be popular in the following way:
~303,258 live websites use 1and1 sitebuilder;
~22,199 live websites use Network Solutions sitebuilder;
~21,581 live websites use Yahoo sitebuilder (decreasing trend, lost its popularity, best times were shared with Blogger).
Unfortunately, we have only these numbers (form Builtwith.com), but it was interesting to learn that 1and1 sitebuilder appeared to be much more popular as this service regardless of the fact that the other two providers are larger.
Also, judging by all this, it looks like while hosting providers do try to follow the trend we mentioned at the beginning of our article, they haven't yet managed to reach the same level of engagement as website builder platforms have. However, there is plenty of space to grow.
---
Final Thoughts
We have tried to bring some unconventional information about to website builders to the table here by looking at the topic from the point of view of web hostings.
What was interesting to learn is that the web hosting market trends we mentioned at the beginning of the article were confirmed by the analysis of our provider list.
However, we expected larger numbers in terms of provider-offered sitebuilder consumer usage.
In fact, the major conclusion that can be drawn is that website builder platforms independently are more popular than the ones offered by hosting providers.
The latter are trying to offer the feature, but mostly in affiliation with someone; and when it is a product of own development, it is so far fail to gain the level of customer engagement of the independent website builder platforms.
Also, our research revealed several other unexpected questions that we were unable to answer in this article. We hope to get back to them later.
We also hope that it will be of use for many readers who is in the process of making up their mind on the choice of a website builder. What you need remember is that you can make the most of any option, be it a website builder platform or a product offered/promoted by a hosting provider.
Just keep it simple, be informed, stay tuned!