Should You Transfer Web Site to Cloud Web Hosting?
Published: July 22, 2019 / Article by: Siarhei Kulich
What do you do when your website starts to get more popular?
That's right – you'd start thinking about moving it off shared hosting.
For many years, dedicated hosting was the only alternative – and a costly one.
Luckily, now there is another option – cloud hosting.
How is it different?
Table of contents
1. What does Cloud Web Hosting Mean?
Which website owner doesn't dream of thousands of daily users?
Or of a spot on Google's first page of results?
Or of a sudden surge of sales in their online store?
If you have a site, this must be your ambition, too.
But when you finally get there you might get a nasty surprise indeed.
Your shared hosting provider won't be able to handle all that traffic. In the best case, your site will slow down or experience some downtime. In the worst case, other websites that share the same server will suffer and complain. Your account can get suspended.
This cannot happen with cloud hosting. Like many clouds in the sky, servers in different data centers come together to host your website. New virtual clusters emerge to provide the resources that you need – exactly when you need them. And when the need passes, these virtual servers disintegrate, like a cloud after rain.
Cloud hosting is radically different from traditional shared and dedicated servers.
Why? Because it can scale.
In fact, cloud hosting is the ultimate scaling solution for websites – and it's not as new as you might think. In fact, the first such service was launched by Amazon Web Services as far back as 2006!
2. How Cloud Hosting Differs From Traditional Web Hosting?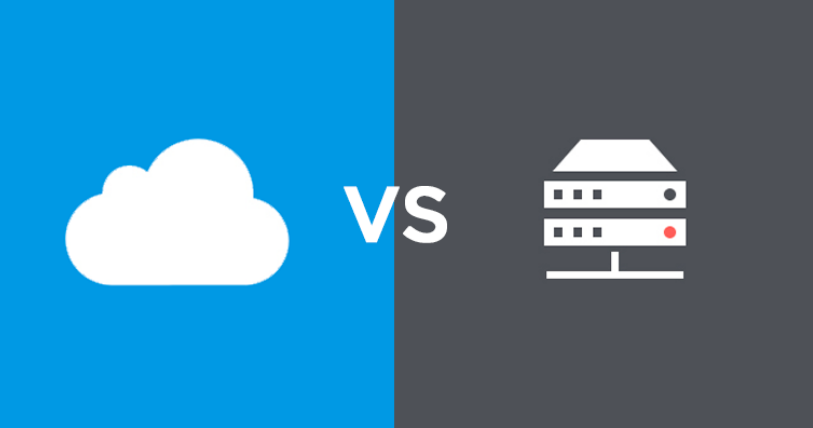 The technical intricacies of cloud architecture, containers, and virtual clusters could fill pages.
But that's not what you want to know, is it?
As a website owner, you are probably interested in three key differences:
Infrastructure
Even with a VPS or a dedicated server, you can only rely on the resources that that particular server provides. You'll have to make do with all its physical limitations. In a cloud, you can simultaneously use the resources of a server in Europe, another in the US, and a third one in Australia, for example.
A great feature of cloud hosting is that it offers a pay-as-you-go model. You get billed only for what you use, like with electricity and water.
Cost
You can find shared hosting solutions for as little as $3 a month, but a dedicated server will set you back at least $100. Even worse, most of the time you're not even using the resources you are paying for!
The prices for dedicated solutions are several times higher than the actual cost.
Cloud hosting is somewhere in the middle: you can even find offers for under $10 a month. Enterprise-grade solutions can still set you back $100 and more, of course.
But you'll get something that no dedicated server can give you: a hosting that grows together with your business.
Security
If you use shared hosting, your site can go down if some other websites on the same server have a spike in traffic. An attack on another site can affect yours, too. And if something happens to the server, you'll have to restore your whole site from backup.
Dedicated servers aren't much better, in spite of their high cost. They offer almost no redundancy – that is, your site is stored on that one server, and that's it. A server is just a computer – and it can die or get damaged. In this case, you'll face prolonged downtime and the annoying task of restoring your site.
Cloud solutions offer the greatest redundancy: it's always built into the architecture. Your site has multiple copies, in different data centers. Such centers feature state-of-the-art security systems, guaranteeing better uptime than even dedicated servers.
3. Is Cloud Web Hosting Right For You?
We've established that cloud hosting has many advantages over traditional solutions. It's secure, cost-efficient, and reliable.
Does it mean you should switch right now?
Well, not necessarily.
When you are just starting out, shared hosting will suit your needs perfectly.
But if your site (and your business) fit any of the following conditions, then it's time to go cloud:
You are growing fast and get over 1000 visitors a day; you're outgrowing your shared hosting.
Your business is seasonal and has spikes of client activity. Example: you sell Valentine's Day gifts.
You've already experienced long episodes of downtime because of something other websites did. Or worse – you got suspended after a surge of traffic on your site.
4. Affordable Cloud Web Hosting Companies
We've compiled a list of 5 providers that offer cloud hosting.
Please note that HRank doesn't test cloud hosting solutions.

We only study shared hosting offerings and draw conclusions. So, we've evaluated the general reputation of the companies that offer cloud hosting and shared hosting, and here is our top-5: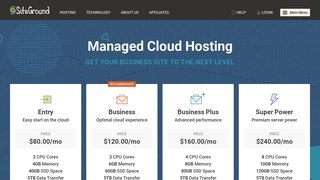 If you plan to scale your business, then this is the solution for you. It's not the cheapest – the plans start from $80 a month – but what you get is impressive. At least 40 GB of storage, 5 TB of data, and up 10 GB of RAM: with such values, you can easily serve thousands of users daily.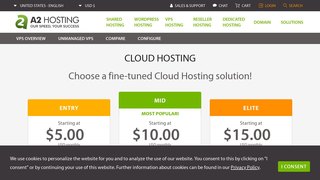 This provider takes the best price prize hands down: its entry plant starts from only $5! Unfortunately, cloud plans from A2 are only suitable for small businesses. You'll get no more than 1 GB of RAM and 2 TB of data transfer.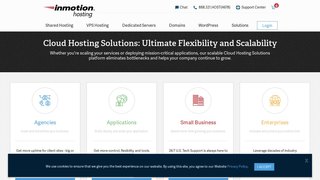 This provider offers many plans for small businesses, apps, and enterprises. The prices are reasonable for what you get: for example, $30 a month can give you 4TB of bandwidth and 75 GB of storage.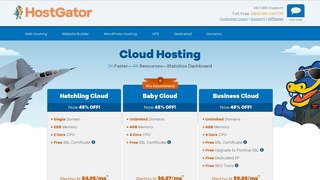 This is another great low-cost solution, starting from $5. There is no set bandwidth or storage that you can rely on. Instead, it's unmetered – and you are expected to use it "reasonably". This means that a spike in traffic could land you in trouble.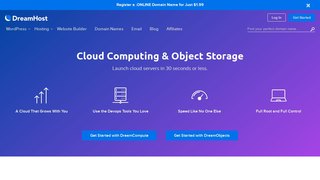 This cloud solution is aimed at developers. If you need to design and run a web app, then you'll like the techy, geeky approach of DreamHost. The plans run from $4.5 to $48 monthly.
Of course, there are many more providers on the market than the 5 we've listed. Cloud hosting is growing very fast, but there's also a risk in that. Less reputable companies can try to sell normal shared hosting as cloud, just to charge you more. Switching to cloud hosting is not something to be done in a rash! Conduct your own research first – and of course, follow the updates on our blog.