The Tale of "Unlimited" Web Hosting
Published: March 16, 2018 / Article by: Siarhei Kulich
Table of contents
Shared hosting is loved by website owners for many reasons, and its cost-effective nature is one of them.
The majority of sites on the web don't usually have excessive traffic volumes and face serious security concerns to require expensive VPS or dedicated hosting.
Thus, a typical blogger or a small business owner might be excellently served by a relatively cheap shared hosting plan.
Apart from the price, customers are also attracted by the promise of such features as unlimited number of domains, unlimited bandwidth and disk space.
Here, we have to keep in mind that "unlimited" is a beautiful marketing term. It works in pretty much the same way as "free", giving the impression of fairies and unicorns, you know what I mean.
And while we have already learned (more or less) what to expect from everything "free", we tend to forget "unlimited" web hosting also comes with strings attached.
---
1. What does Unlimited Web Hosting Mean?
The word "unlimited" has the meaning of something "boundless, infinite and vast".
Thus, when it comes to web hosting features, one would suppose that the provider is generous enough to offer the unconditional use of its hosting resources, so to say, not limiting either their number and amount of those, or the level of access to them. For instance:
unlimited disk space
unlimited bandwidth
unmetered (means the same) number of domains
Isn't it wonderful?
---
2. "Unlimited Web Hosting" in Real Terms
To put it simply, the unlimited is, well, nothing more than a marketing term. The providers' Terms of Service (that most people don't care to read) do contain this information.
Naturally, web hosting service providers claim to offer unlimited hosting but aren't really transparent about it. It is not in their best interest to be as clear as daylight. Thus, they put it like this:
Unlimited in shared hosting means that the service is open to you as far as you don't compromise the terms agreed.
Meaning that with the slight compromise of the service through heavy usage of the server, the hosting provider could terminate your hosting immediately, in most cases without warning.
Hence, "Unlimited" sounds like a great deal, but what a website owner isn't told is that he shouldn't exceed a certain limit in disk space or bandwidth for instance.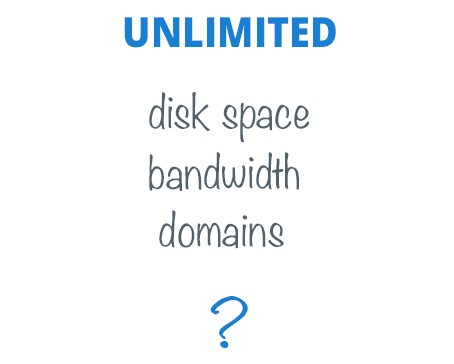 If hosting providers were honest, it would mean that every time a website owner uploads images, videos or music he would have to be very careful on the amount of space being used up and the space that's left.
The promise of unlimited space or bandwidth makes the website owner to relax and upload all the content they want without worrying about the space or bandwidth being consumed.
Soon the website uses too much of the "unlimited" resources and the hosting plan provider either asks for more funds or have the site deleted from their server.
Naturally, they'll be acting within their Terms of Service, which they indicate clearly though in small print. They just throw the term "unlimited" in the mix blinding everyone from paying attention to what is actually being offered.
Essentially, the hosting provider offers their unlimited resources with the hope, assumption and faith that a typical website won't use up much of the resources anyway.
---
3. What You Get with Most Hosting Plans
Virtually all hosting companies offer unlimited hosting.
However, their caveat on "unlimited" is different and not uniform across the board.
For instance, Godaddy.com offers the following some unlimited features in some plans:
However, under their Terms of Service, unlimited plans are limited to "no more than 250,000 inodes per account for Linux® hosting accounts", a thousand database tables and one gigabyte of storage per database. Exceeding the limit could lead to permanent or temporary suspension.
BlueHost.com is more generous as it seems and promises unlimited use of resources almost everywhere in the plans:
But CPU usage by your account will be throttled if found to be using more resources than allowed and your site will respond slowly until the provider has made up their mind on what to do (according to their Terms of Service):
---
4. Why Such Offers and the Target
So, unlimited hosting doesn't exist.
Such offers are made because the providers have enough data concerning shared hosting typical buyers and the average amount of resources they use. Thus, they target average bloggers and website owners whose hosting needs will probably never reach the limit allocated to them.
Since the actual usage of each account is a matter of probability, most hosting companies believe a typical website will take about 5GB-25GB disk space. Considering a typical website will never hit the limit, the hosting company offers the available space to thousands of other sites.

The offer of "unlimited" here is clearly just the knowledge that you'll never use the space allocated to you or get anywhere close to the limit. It's simply a marketing gimmick hidden in the small print of Terms of Service.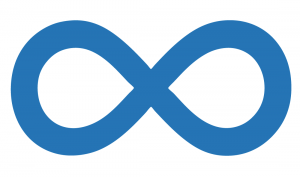 Well, there is a possibility of having "unlimited" number of websites, there is such a thing. However, the question is not in the number of records but rather in the amount of actual space each website will take.
And here is another catch.
As long as the offer of "unlimited" resources has little meaning and is aimed only at engaging more customers, there is a real chance for large website owners to become attracted as well. As a result, any large website hosted with an "unlimited" plan will have performance problems due to excessive load.
Usually, large website owners understand the needs of their sites and the necessity to purchase VPS or dedicated hosting plans if more traffic and space is needed. Yet, sometimes the offer of everything "unlimited" can be too alluring.
---
5. How to Choose a Hosting Provider
Now, as you search for the right hosting plan for your site, avoid the lure of the blinding offer of "unlimited features" and look deeper.
First, check the major features that will impact your website performance:
Web hosting provider safety (meaning good uptime results, less downtime),
Disc space allowed,
Traffic offered,
and technical/customer support arrangements.
Once you've checked those, you can go a bit further and check for:
Additional add-on domains allowed,
Allowed parked domains for each user,
Databases allowed,
Email accounts that can be created per user,
Single click script installation if any,
Money back guarantees,
Free domains if any,
Free site builder feature.
Don't be misled by hosting companies' promise of "unlimited" features. As we've already covered, it is no more than a marketing trick. Rather, weigh up what your website really requires in terms of traffic, weight, bandwidth and disk space requirements. Perhaps you've got particular hosting needs? Put everything into mind and on the table as you search for the right hosting option. If the current one you're using isn't at par with your hosting needs, simply shop for another. If you decide to stick with shared hosting due to particular needs, always back up your website files. Otherwise, you could lose everything if you end up violating the hosting company's Terms of Service.